Membership Spotlight: Terrapin Peak Bed, Breakfast & Beyond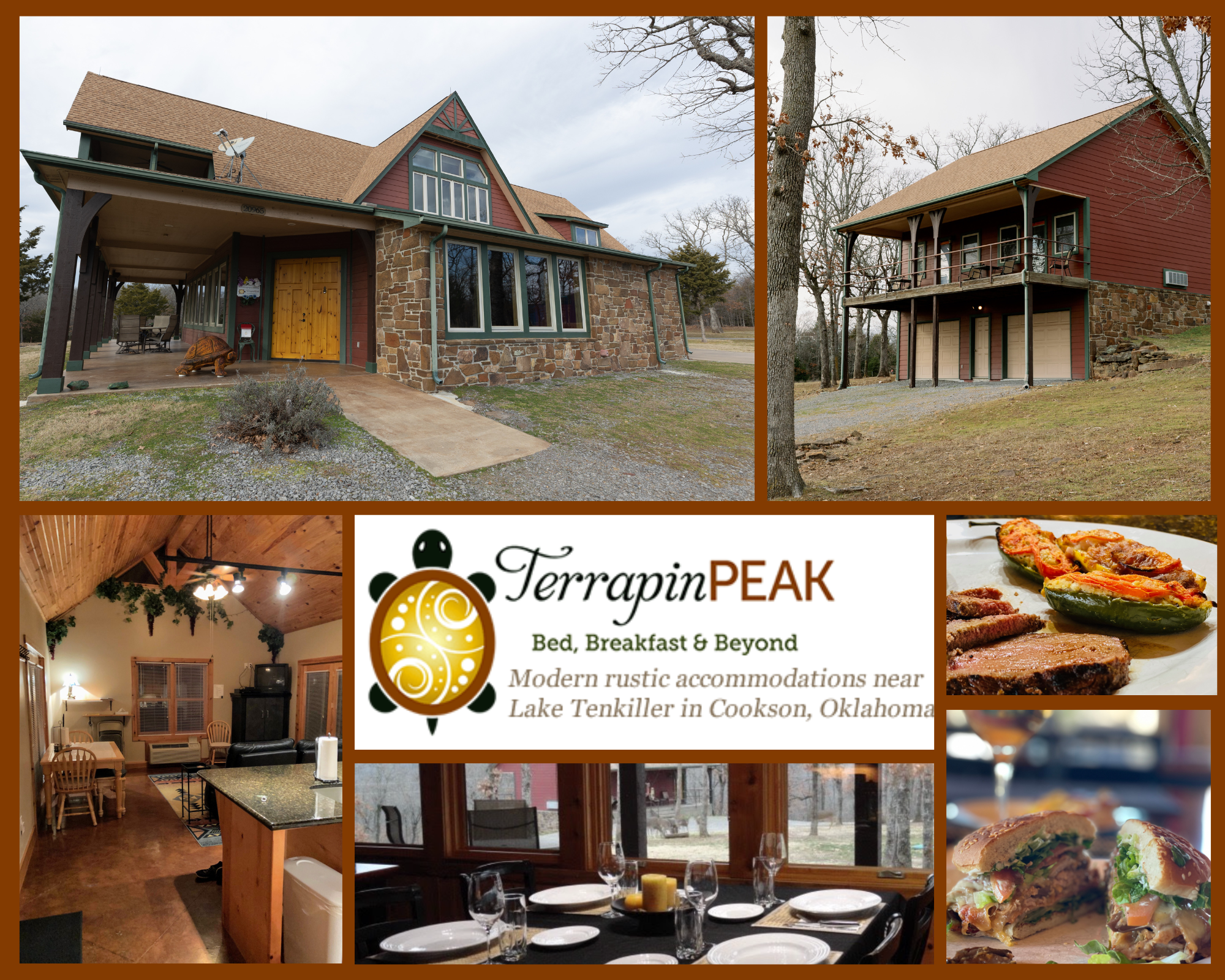 Terrapin Peak Bed, Breakfast & Beyond is not your typical bed & breakfast! Terrapin Peak opened in the summer of 2009 and was designed to deliver a "beyond" experience. Instead of your standard several rooms in one home, this bed & breakfast has multiple cabins with private rooms spread across nine acres. This allows guests to enjoy their privacy during their getaway.  
Many describe Terrapin Peak as rustic, secluded and charming, with a multitude of wildlife roaming throughout its grounds. Whether you are a guest seeking peace and quiet away from the hustle and bustle of everyday life, or wanting to hangout at the Main Lodge playing pool, watching movies and engaging in conversation, Terrapin Peak has you covered. 
Terrapin Peak Bed, Breakfast & Beyond is open for guests all year round. Located just two miles from Lake Tenkiller, summertime is very busy. Many guests spend their days out on the lake with their friends and family, but return to their private cabin to unwind and relax. Throughout the year, several guests come to visit Terrapin Peak to celebrate anniversaries, birthdays or just hangout with a group of friends or family. Whatever the occasion may be, with just two weeks notice, guests can enjoy the perfect getaway with a chef-prepared meal of their choice.  
Terrapin Peak offers a Couples Retreat specials for parties of 4-5 couples. As long as couples give at least a two week notice, you have the opportunity to vacation without breaking the bank.   
Here's the deal:  
2-night stay (room types 2 rooms with King bed, 3 rooms with Queen bed). 

1 Chef prepared dinner, same meal for entire party, price TBD. 
1 Chef prepared breakfast, same meal for entire party, price TBD. 

Couple that books reservation gets 50% off their Lodging or Chef prepared meal. 
In order to ensure the quality of the Lake Tenkiller area, those with Terrapin Peak Bed, Breakfast & Beyond coordinate the lake and river clean up. This clean up is known as the Tidy Up Tenkiller and the Illinois River. This event takes place twice a year; once in the spring and once in the fall. Over the past three years, this event has helped in the removal of more than 80 tons of debris from the shores of both the lake and river.  
Located at 20956 W 921 Road in Cookson, near SixShooter Marina, Terrapin Peak Bed & Breakfast welcomes guests to an experience like no other. For more information, check out their website at www.terrapinpeakbbb.com or call 918-457-4906.