Sponsorship: The best way to invest in your business and community
Sponsorship: connecting community and business.
By Hannah Fell
Tahlequah: A city nestled on the edge of the Ozark Mountains, surrounded by nature's beauty and filled with people jumping to get outside, have some fun, and soak up the sun. All of these things make Tahlequah a prime destination for events, gatherings and excursions. There are many widely known events and festivals that happen within Tahlequah each year, and the Tahlequah Area Chamber of Commerce puts on their fair share of exciting events each year too!
Since most events in Tahlequah garner such support from the community and regularly receive high turnouts, sponsoring events as a business can give you a leg up on gaining recognition, credibility, and awareness. The TACC gives all members the chance to sponsor any events throughout the year that they hold, offering generous benefits from logo display on banners and t-shirts, name recognitions on announcements and programs, and much more! 
Getting your business the best possible deal on marketing at TACC events is priority, so whatever your budget or time schedule, there is a plan for you. Here's how to get in on sponsoring TACC events this year: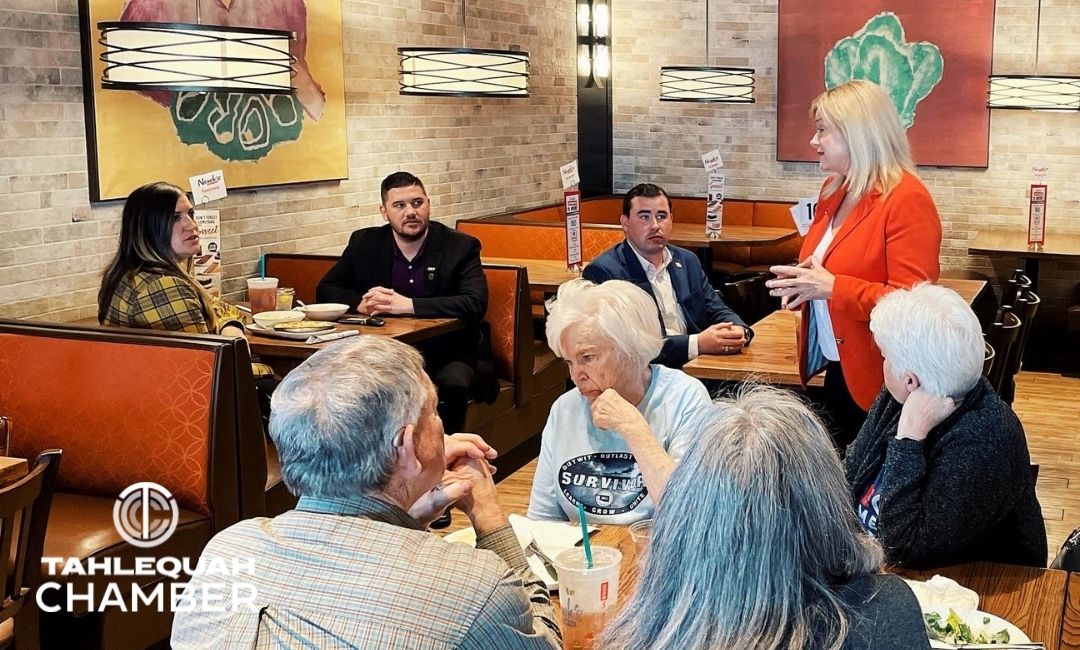 Step 1:
Be a member of the TACC! Of course, the amazing benefit of being an official sponsor for TACC events is only offered to members. If you are not yet a member, check out our other blogs for more information on why you should become a member and reach out to the TACC at 918-456-3742 or email Info@TahlequahChamber.com.
Step 2 :
Decide what events you would like to sponsor. Check out the chamber website event pages to see what big events go on throughout the year, then pick out which ones you would like to be a part of! For more information on events reach out to the Events Coordinator, Rebecca Owen at Rebecca@TahlequahChamber.com. 
Step 3:
Purchase or commit to the events you want to sponsor in June, during the Community Cooperative. Instead of having members periodically purchase sponsorships throughout the year, the chamber has a month-long period before the fiscal year starts in July where all members may purchase sponsorships for any upcoming events through the fiscal year. So in June of each year, you as a member will be able to commit to your desired events. The chamber requests each member ranks their sponsorships so that priority is given to your most desired events.
Step 4:
Get your billing in order. The chamber's main goal is to help your business succeed, so whatever your budget or timeline is, there is a plan available for you. Billing starts on July 1 for the fiscal year, and the chamber will be flexible to adjust to your schedule for payments.
Step 5:
Receive the benefits of your sponsorship! Now that you have decided and committed to your events, it is time to sit back and enjoy the benefits. Tickets to all TACC events are available to all chamber members, so don't forget to attend the events you are sponsoring to witness the fruit of your labor. 
Sponsoring a TACC event is not only beneficial for your business, but by doing so you are supporting the community of Tahlequah. Many of our events celebrate local business achievements, city beautification and individual leadership. Investing back into the community is the best way to foster connection, trust, and recognition. Give back today, and be a TACC event sponsor!
For more information reach out to the TACC by calling 918-456-3742 or email Info@TahlequahChamber.com.